Democrats Can't Shake Chicago Blues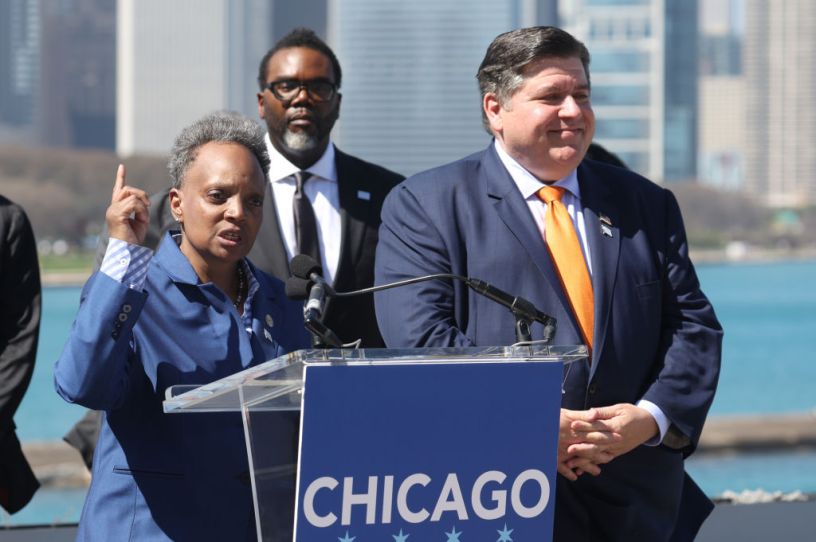 Mayor Lori Lightfoot (left) accompanied by Mayor-elect Brandon Johnson (center) and Illinois Gov. J.B. Pritzker during an event to announce Chicago as the host city for the 2024 Democratic National Convention on April 12, 2023 in Chicago, Illinois. (Photo by Scott Olson/Getty Images)
When people suffer as a result of doing something foolish, like being hospitalized after seeking the healing power of "raw water" or having to be saved by a rescue crew after choosing a tidal cave for do-it-yourself porn pictures, we are first tempted to say, "Ah, drugs …"
But people do amazingly dumb things all the time without the aid of any chemical enhancements—like, for instance, Democrats choosing the city of Chicago as the host for its 2024 convention. One assumes that the members of the Democratic National Committee were not under the influence of anything stronger than statins and maybe some legal ganja when they picked the troubled city for their gathering.
Yes, the most powerful mind-altering agent in politics remains self-deception. Democrats going to a city that is infamous for street crime and soon to be under the mayoralty of a progressive favorite who is already facing pushback from the police and business leaders would be like Republicans holding their convention at Mar-a-Lago. (Not that I would put it past them …) The first rule of a nominating convention, especially when your party is incumbent, is to make no trouble. So why on earth go to Chicago?
Since the idea popped up a year ago, Democrats have a lot less to worry about when it comes to how the convention itself will go. Back then, before the reasendence of Donald Trump on the Republican side and the GOP's corresponding bungle of the 2022 midterms, President Joe Biden had a much more tenuous hold on his party. But as summer approaches, the chances for a robust primary challenge to Biden are dwindling, and along with them, the possibility for disruption inside the convention itself. It may yet be chaos rather than a coronation, but for now, the odds are decidedly better for Biden.