'Congress is Going to Have to Steel Ourselves'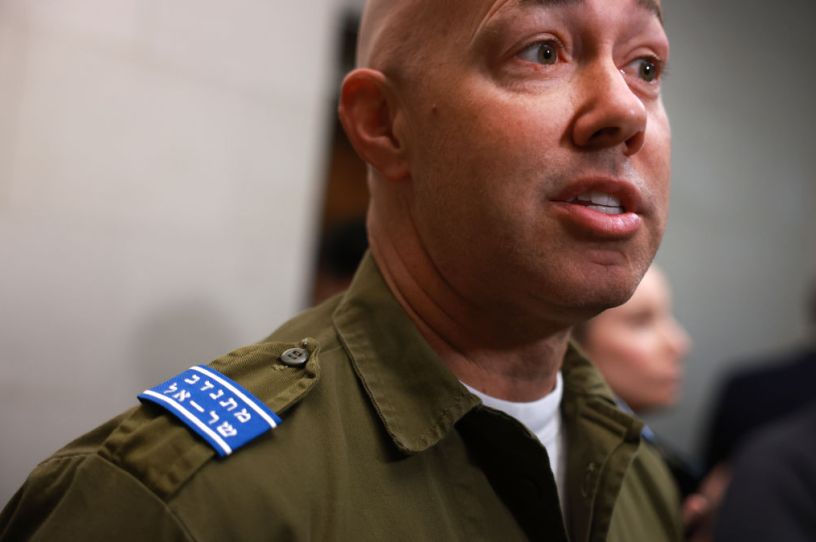 U.S. Rep. Brian Mast (R-FL) wears an Israeli Defense Force uniform as he arrives at a House Republican caucus meeting at the Longworth House Office Building on October 13, 2023 in Washington, D.C.(Photo by Joe Raedle/Getty Images)
The Israeli government hadn't even collected all the bodies of the more than 1,300 people slain in Hamas' horrifying terror attacks over the weekend before American progressives and international human rights groups cautioned the country to be restrained in its response.
This isn't a new dynamic for Israel. As my colleague Kevin argued earlier this week, no other country reeling from extreme violence and hatred—like what Hamas carried out last weekend—would face such high-profile, immediate calls for a ceasefire. Some people pushing Israel to stand down are brazenly antisemitic. Others are reacting to photos and videos of carnage in Gaza—some accompanied by misinformation, some from entirely different conflicts.
But there is very real carnage in Gaza, too, and it will likely escalate into a brutal humanitarian crisis. As Israel bombs Hamas sites and equipment, innocent people are being hurt and killed—sometimes because of faulty intelligence, other times because of the sheer density of the enclave, and often because Hamas views Palestinian civilians as some of its greatest military assets, with its leaders all too willing to use them as human shields. People in the Gaza Strip are facing dire conditions, prompting plenty of good-faith reservations about what comes next in this war.