Squeezing the Speaker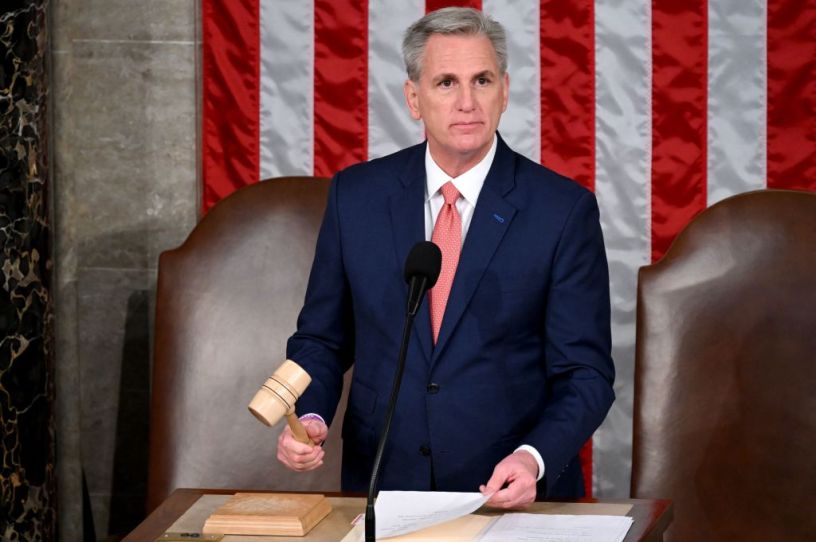 House Speaker Kevin McCarthy holds the gavel following President Joe Biden's State of the Union address in the House Chamber on February 7, 2023. (Photo by SAUL LOEB/AFP via Getty Images)
With Republican gridlock intensifying and a government shutdown looming, House Speaker Kevin McCarthy sounded close to shifting his strategy last week from appeasing his critics to daring them to oust him as speaker. But instead of putting a stopgap spending bill on the floor and essentially daring hardliners to vote against it, McCarthy ultimately settled for attempting to placate the rebels in his caucus by advancing individual spending bills with stringent spending cuts.
The drama has illustrated how moving a motion to vacate, or oust the speaker, isn't the only way a small but belligerent minority of the majority party can exercise outsize control over McCarthy. Last week's rebellion among GOP hardliners ground House business to a halt when they tanked consideration of a defense spending bill twice, voting against the "rule" that allows for its consideration on the House floor.
"You can cripple the speakership in other ways," Matt Glassman, a senior fellow at Georgetown University's Government Affairs Institute, tellsThe Dispatch. "You don't control the House unless you control the procedural majority. … Quite clearly, [McCarthy] doesn't currently control the procedural majority in the House."
In other words, a majority (or 218 lawmakers) that defers to the leader's agenda and coalesces behind the basic procedural steps necessary to govern, such as votes establishing the rules of debate for a particular bill.
You're out of free articles
Create an account to unlock 1 more articles