Our Best Stuff About 2024, the NATO Summit, and Ukraine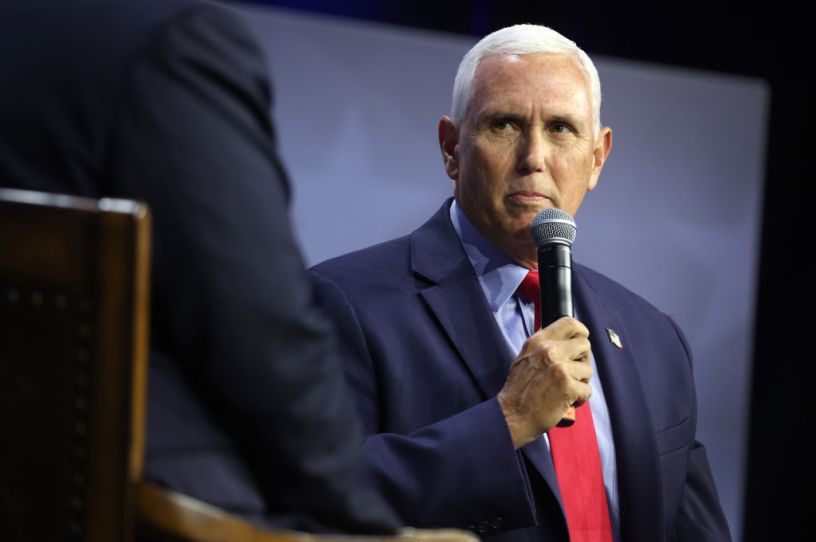 Former Vice President Mike Pence fields questions from former Fox News Television personality Tucker Carlson at the Family Leadership Summit on July 14, 2023 in Des Moines, Iowa. (Photo by Scott Olson/Getty Images)
Hello and happy Sunday. How's your weekend going? As I was perusing some news sites for topic ideas, I saw something that surprised me less than it should have. The top headline at the Drudge Report proclaimed, "Record Heat Sweeps World." And right below that? "Tourists Flock to Death Valley." Sigh. Sounds about right.
The Guardian story about Death Valley notes that temperatures this weekend could exceed the modern record of 130 degrees Farenheit set in 2021 and notes, "The park's extremes have long drawn in those attracted to extremes." If only that phenomenon were confined to outdoor adventurists. Unfortunately it's also a pretty accurate parable for our current political era.
Take a couple of stories from this week. A half-dozen of the declared GOP presidential candidates made their way to the Family Leadership Summit in Iowa, which bills itself as the "Midwest's largest gathering of Christians seeking cultural transformation in the family, church, government." But there wasn't a lot of talk about abortion, family policy, religious liberty, or other topics that you'd assume were on the minds of Christian conservatives. Instead, moderator Tucker Carlson grilled the candidates on their stance on Ukraine, asked Asa Hutchinson how many COVID vaccinations he'd had, and asked Mike Pence–who had to be rushed to safety with his family on January 6—if he'd describe the events at the Capitol an insurrection. Pence demurred, calling it a riot, but still got a chilly reception from the crowd.
Carlson's audience has shrunk since his firing by Fox News: His debut of his new "show" on Twitter got 26 million views, but viewership has declined by 86 percent since. And yet those who stay with him are loyal.