Our Best Stuff From the Week Trump Got Arraigned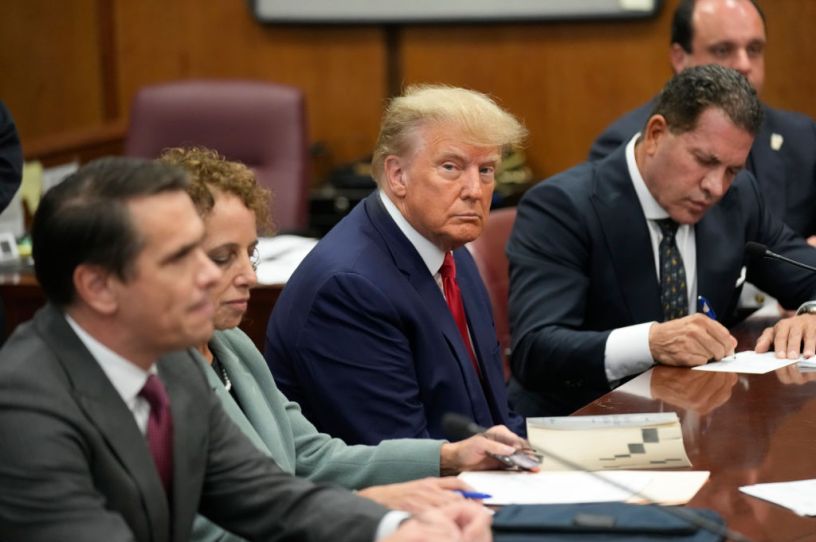 Former U.S. President Donald Trump sits with his defense team in a Manhattan court during his arraignment on April 4, 2023. (Photo by Seth Wenig-Pool/Getty Images)
Hello and happy Saturday! It was another busy news week (is there any other kind at this point?), but it's also an eventful weekend in the Ohio bureau. Our oldest is home from college for the weekend, his brothers have a bunch of baseball games, and we're having family over to celebrate a few birthdays and my parents' anniversary. (I'd throw in Easter, but it feels weird to say that when we're laying out a taco bar for the occasion.) And so I'll make this quick.
The three biggest stories of the week are all very different, but they are also all, in their own ways, reflections of the frustratingly polarized times that we live in.
Tuesday, of course, brought us a little history when Donald Trump became the first president to be indicted. As Nick put it, "the biggest political story in America this week involves an embarrassing right-wing authoritarian who threatens the rule of law being indicted by a left-wing prosecutor on a legal theory that's embarrassing and threatens the rule of law." It's hard to put it better than that. (Though we did publish a piece Saturday from Patrick Frey—who some of you might know better as the blogger Patterico—arguing that the indictment might not be all that bad.)
Also on Tuesday, Wisconsin voters elected Janet Protasiewicz to serve on the Wisconsin Supreme Court. Conservatives had long held a 4-3 majority on the court, but her victory gives liberals control.