Our Best Stuff on the Debt Ceiling, the Heritage Foundation, and Infrastructure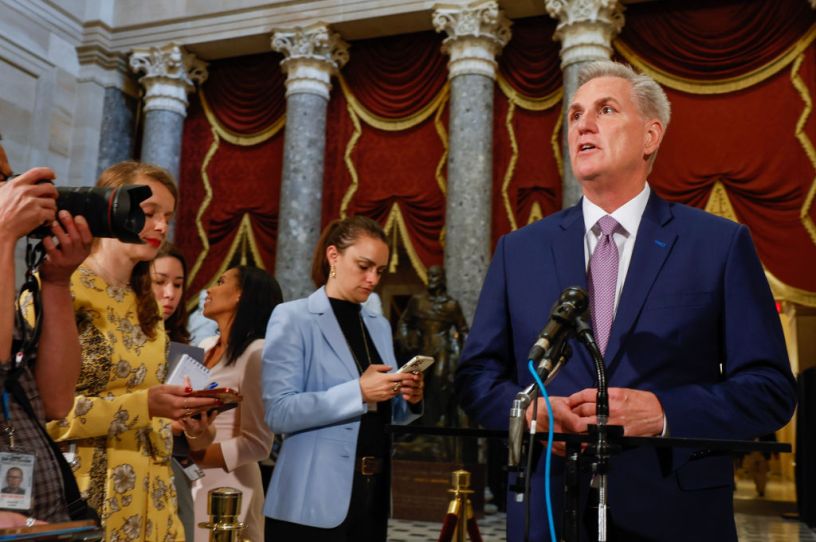 Speaker of the House Rep. Kevin McCarthy addresses the media at the U.S. Capitol on April 26, 2023 in Washington, D.C., after the House voted and passed a bill raising the nation's debt ceiling. (Photo by Tasos Katopodis/Getty Images)
Hello! I hope you're having a good weekend. Longtime readers know I don't delve into hot political topics too often here—I prefer to leave that to the experts—but a couple stories from this past week disturbed me enough that I can't not talk about them.
First, Tucker Carlson. Fox News did not explain why it parted ways with Carlson last week, prompting speculation. Was it because he welcomed guests who spread lies about the 2020 election while privately calling some of the claims "absurd," showing that he knew he was airing falsehoods? Was it because of disparaging comments he made about colleagues and Fox News leadership that came out in the discovery process of Dominion Voting Systems' defamation lawsuit? Or was it a different lawsuit altogether?
Abby Grossberg, a former Fox News employee who worked as a booker for Tucker Carlson Tonight, sued the network in March, claiming the network's lawyers coerced her into making false statements in the deposition she gave in the Dominion case. But she also claimed that "she endured a hostile and discriminatory office culture at the network," as Harvest notes in a report on the suit. How hostile?
During her first full day on Carlson's show, Grossberg was greeted with "large and blown-up photographs of Nancy Pelosi in a plunging bathing suit revealing her cleavage" on her computer and elsewhere in the office. The next day, Grossberg says she was called to the office of Senior Executive Producer Justin Wells, who she said asked if her former boss, Bartiromo, was having sex with then-House Minority Leader Kevin McCarthy.