Fact Checking Claims About Voting Machines in Arizona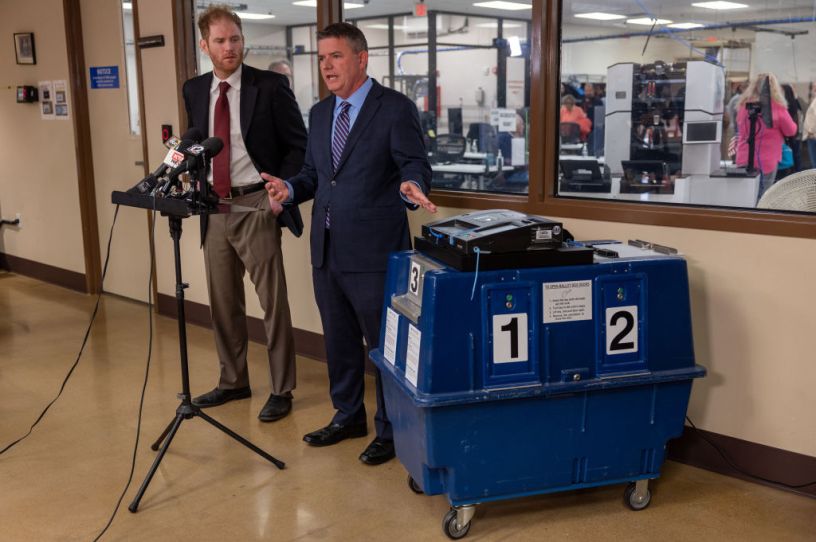 Bill Gates, chairman of the Maricopa Board of Supervisors, speaks about voting machine malfunctions at the Maricopa County Tabulation and Election Center on November 08, 2022. (Photo by John Moore/Getty Images)
Voting machine malfunctions on Election Day in Arizona led to a conspiracy theory that some form of election stealing or disenfranchisement was taking place to prevent Republicans from winning in the state.
There was a widespread voting machine error in Maricopa County, the largest county in the state, that affected 60 of the county's 223 voting locations early on Election Day. Maricopa officials said they discovered the error was not in the tabulating machines, but in the printers producing the ballots—insufficient ink was being used, prompting the tabulator to reject them. Rejected ballots were put in a lockbox attached to the tabulating machines to ensure that they were counted later, and voting officials encouraged voters to go to other locations if they were uncomfortable with voting in this manner.
After reviewing the situation in Maricopa, a senior Cybersecurity and Infrastructure Security Agency official said in a briefing that there was no reason to believe there was any election interference at play with the malfunctions: "We've seen no activity that should cause anyone to question the security, integrity, or resilience of our election infrastructure."
There is, in short, no evidence to suggest that what occurred in Maricopa County was anything other than a machine error nor that there is any reason to believe that the error will prevent any ballots from being counted.
Similar baseless claims were made during the 2020 election, when conspiracy theories sprang up about Sharpies being used to invalidate ballots, fraudulent mail-in ballots, and discarded ballots.
If you have a claim you would like to see us fact check, please send us an email at factcheck@thedispatch.com. If you would like to suggest a correction to this piece or any other Dispatch article, please email corrections@thedispatch.com.