Donald Trump and Ron DeSantis Dominate GOP Fundraising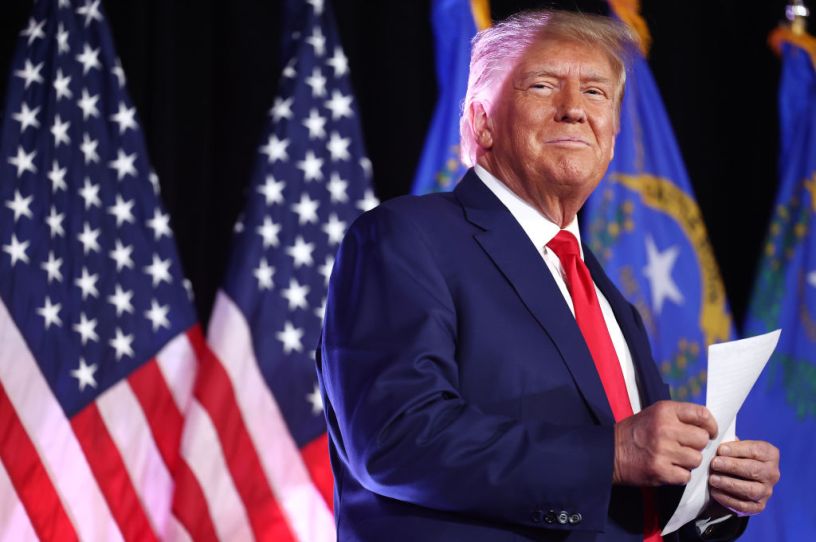 Former President Donald Trump prepares to speak at a Nevada Republican volunteer recruiting event on July 8, 2023, in Las Vegas, Nevada. (Photo by Mario Tama/Getty Images)
Happy Friday! And a lucky day for whomever left the bag of cocaine in the White House! "The Secret Service said FBI lab results from the packaging found 'insufficient DNA' and could not retrieve any fingerprints," CNN reports. "Therefore, the Secret Service is not able to compare evidence against the known pool of individuals," the USSS said in a statement.
Up to Speed
Who's Hot and Who's Not in the Race for Campaign Cash
For months, the only measurement available to judge the Republican presidential contenders has been polling. At last, we now have a second metric: Fundraising.
And it's no surprise the second-quarter fundraising hauls for the leading contenders reflect their standing in the polls. Former President Donald Trump is the overwhelming frontrunner for the GOP nomination; he also won the second-quarter money chase. Florida Gov. Ron DeSantis is running second behind Trump; he raked in more in the three-month period ending June 30 than any other candidate except the former president. Let's review:
Donald Trump. The former president's campaign confirms it raised a combined $35 million from donations averaging $34 each. A spokesman declined to reveal how much flowed to the campaign and how much flowed to Save America, a political action committee subject to federal contribution limits. Also unknown is the size of Trump's war chest. Second-quarter fundraising disclosures are due at the Federal Election Commission on Saturday (July 15), so it won't be a mystery for long.