Barreling Toward a Shutdown
Happy Monday! We hope you'll forgive us for a more personal opener than usual, but we hope you'll join us in congratulating longtime TMD editor, and now Dispatch executive editor, Declan Garvey, and his lovely bride Maddie, on their beautiful wedding Saturday. It was in Des Moines, so there was some talk of politics, and many of the Chicagoans wanted to talk about football despite, well, the Bears. But most of the attention was focused on the couple and the wonderful weekend. We tried to get some scandalous stories about Declan's past but the best we could do was an anecdote about having to pay to take a cab to school because he was late and something about attempting to be cool by purchasing a fedora on a high school band trip to Hawaii. The newlyweds aren't in Hawaii now, but we wish them a terrific honeymoon and many happy years ahead. 
Quick Hits: Today's Top Stories
Government Shutdown, Ahoy!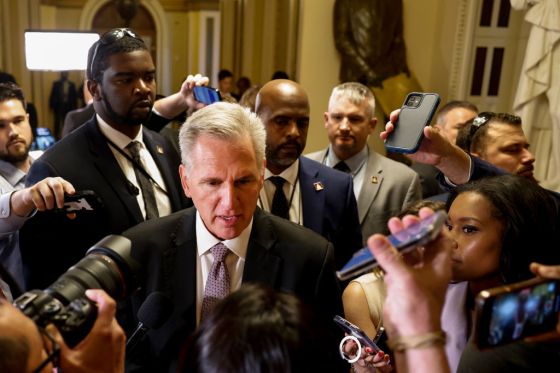 Members of Congress, like high schoolers, are perennially procrastinating on their group projects. But it goes without saying that the problem with elected representatives acting like high schoolers is that lawmakers' group projects have much higher stakes than those of your average 16-year-old in biology class.
A shutdown seems increasingly likely as the countdown to the end of the fiscal year ticks well into the single digits—with lawmakers having passed only one of the dozen bills needed to fund the government. House Speaker Kevin McCarthy is fighting a civil war with hardline members of his own fractious, razor-thin majority who are weaponizing House procedure to keep the body from passing not just the appropriations bills, but also a "continuing resolution" (CR) to fund the government at current levels for a few more weeks to forestall a shutdown and give them more time to pass the new bills.
Most years, appropriations season runs congressional staffers ragged but doesn't give the average American much reason to tune in. As the end of the fiscal year approaches, lawmakers haggle over what's called "discretionary spending," which makes up about one-third of the government's total outlays in a year. As part of this process, they're not touching so-called "mandatory spending," which includes funding for entitlement programs like Social Security, Medicare, and Medicaid: That spending runs on autopilot from year-to-year without the need for congressional reauthorization and constitutes the other two-thirds of the federal government's yearly outflow of cash. (Though Republicans once advocated reforms to the mandatory spending that drives the nation's debt, there's now a fairly bipartisan consensus against any serious effort to find cost savings on entitlement spending.)