House Republicans Remain at an Impasse
Happy Monday! As of Friday, Sen. Chuck Schumer has reportedly ditched the Senate's unofficial dress code—though he's said he'll continue to wear a suit.
The rule change may appeal most to Sen. John Fetterman—who is often seen around the Capitol in his signature gym shorts and a hoodie—but we hope it means Sen. Joe Manchin finally breaks out the Mothman costume we're pretty sure he has.
Quick Hits: Today's Top Stories
Slumping Toward a Shutdown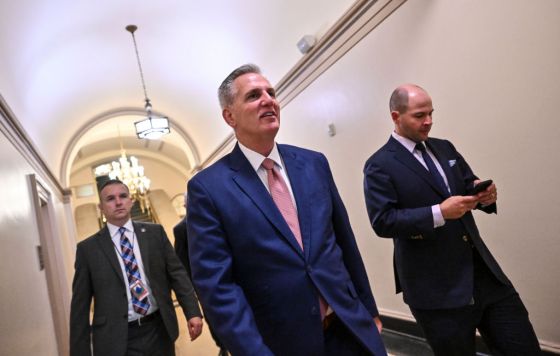 We got our first whiff of autumn here in D.C. over the weekend, with temperatures dipping into the 50s, a handful of leaves starting to fall, and House Republicans putting on a live-action performance of It's the Great Pumpkin, Charlie Brown. Speaker Kevin McCarthy was in the titular role, with a handful of GOP hardliners teaming up to play Lucy. Instead of a football being pulled away at the last minute, however, it's a deal to stave off a government shutdown that remains ever-elusive, just beyond McCarthy's grasp.
After a lengthy summer recess, the House has now been back in session for about a week—but lawmakers don't appear to have made much headway on funding the government for the coming fiscal year, which begins on October 1. Two intra-GOP factions appeared to reach an agreement last night that would push that deadline back a month, just as Lucy appeared to be holding the football steady for Charlie to give it the boot. Within minutes, more Republicans than McCarthy can afford to lose were out with statements panning the proposal, which wouldn't pass the Democratic-led Senate even if House Republicans are able to coalesce.