Iran Shows No Signs of 'De-Escalation'
Happy Wednesday! Our best wishes go out to the Secret Service agent who was bitten by "a First Family pet" this week. President Joe Biden's dog, Commander, has now been involved in 11 publicly known biting incidents and remains on the journey to becoming a good boy.
Quick Hits: Today's Top Stories
Spurning Biden Overtures, Iran Re-Escalates Tensions on U.S. Soil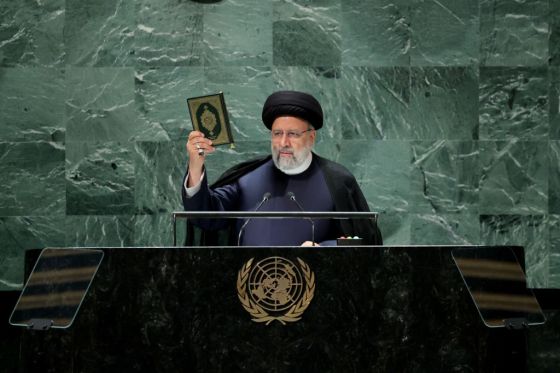 For nearly three years, the operative word in the Biden administration's approach to Iran has been "de-escalation." In public statements and private briefings, top advisers to President Joe Biden used the term both descriptively—to characterize the administration's posture toward the Islamic Republic by contrasting it with the "maximum pressure campaign" employed by the Trump administration—and aspirationally, signaling hope that Iran would respond to the new U.S. approach by dialing back its hostility and engaging more constructively on issues from human rights to the nuclear file.
In a speech last spring on the Biden administration's approach to the Middle East, National Security Adviser Jake Sullivan referred to "de-escalation" nearly a dozen times, referring to Iran-U.S. tensions concerning Iraq, Yemen, and Saudi Arabia. Sullivan described a regional strategy of "deterrence and diplomacy" and said that "we've had a clear-eyed view of defending our interests, of preventing terrorist threats, of trying to de-escalate tensions, of trying to reduce risks of new conflicts, and of trying to end existing ones." Secretary of State Antony Blinken sounded a similar note in a press conference in mid-August: "We've been clear that Iran must de-escalate to create space for future diplomacy."
While Biden administration officials have usually been careful not to portray this more conciliatory approach as a panacea, they've often expressed guarded optimism that a less aggressive posture toward the Iranian regime by the U.S. could well lead to productive diplomacy on renewing the Iranian nuclear deal and other regional issues. While there have been few signs of change, the recently executed prisoner exchange, which included granting Iran access to $6 billion in previously restricted funds, rekindled optimism among Biden administration officials.
You're out of free articles
Create an account to unlock 1 more articles