Israeli Judicial Reforms Advance Over Vocal Opposition
Happy Thursday! Rumor has it a bassist named Paul McCartney and a drummer named Ringo Starr have been collaborating with a guitarist named Keith Richards and a singer named Mick Jagger, recording in Los Angeles in recent weeks. We wish them luck—it's hard for newbies to break into the music industry at such an advanced age.
Quick Hits: Today's Top Stories
Israeli Judicial Reforms Move Forward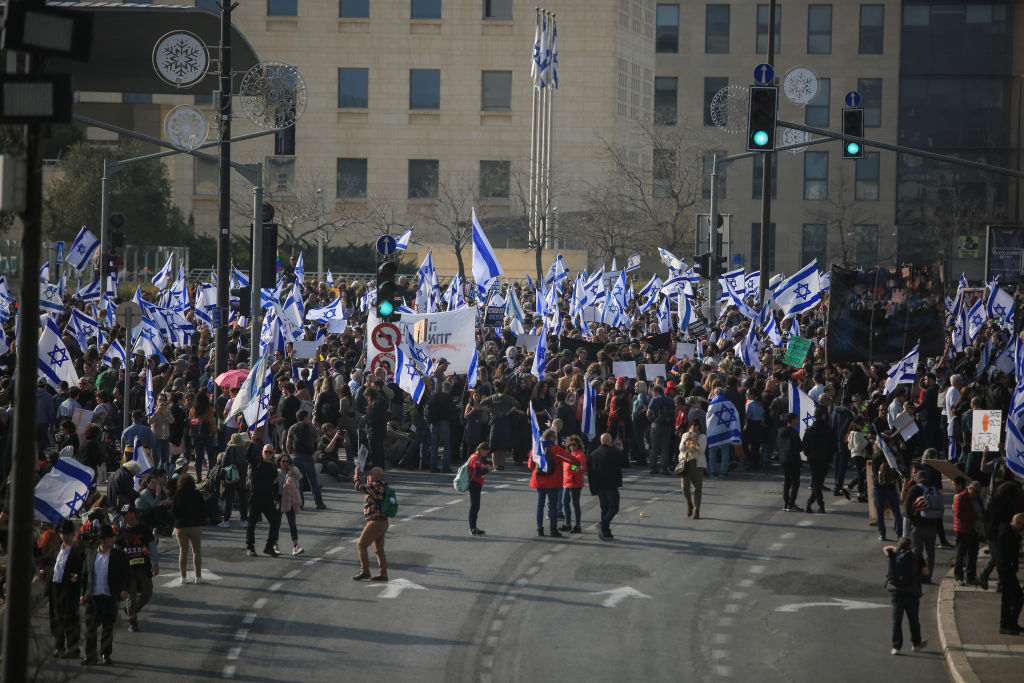 When the U.S. ambassador to Israel, Tom Nides, suggested on a podcast last week that Israel's government should "pump the brakes" on judicial reforms now moving through the Israeli parliament, Amichai Chikli—a top official in Prime Minister Benjamin Netanyahu's government—had a curt response: "Mind your own business."
Lawmakers kept their foot on the gas this week, forging ahead with changes limiting the powers of a judicial branch they view as bloated and obstructionist by overhauling the Supreme Court's appointment process and limiting its oversight of laws passed by the Knesset, or parliament. Despite thousands of protesters gathering in Tel Aviv and Jerusalem for weeks on end—as many as 100,000 people congregated outside the parliamentary building at one point—members of the Knesset voted in recent days to advance portions of the plan.
As Harvest detailed in a recent explainer for the site, the reform package encompasses a number of individual proposals. The first, an "override proof clause," would allow the Knesset to supersede any judicial nullification by simply re-passing the law in question with a majority vote, and a version advanced on Wednesday goes even further, permitting certain pieces of legislation to be preemptively exempted from judicial review altogether. Another element of the package—yet to be introduced—would ax the judicial standard that allows the Supreme Court to use "reasonability" as a justification to block legislation, government appointments, or other administrative actions. The third proposal would rework the judicial appointment process, replacing two representatives of the Israel Bar Association on the Judicial Selection Committee with two people chosen by the justice minister, effectively giving the governing majority control over the selection process for the 15-justice Supreme Court.
Get every newsletter and all of The Dispatch. Support quality, fact-based journalism.
Start Your Free Trial
ALREADY A PAID SUBSCRIBER? SIGN IN