Our Best Stuff From the Dog Days of Summer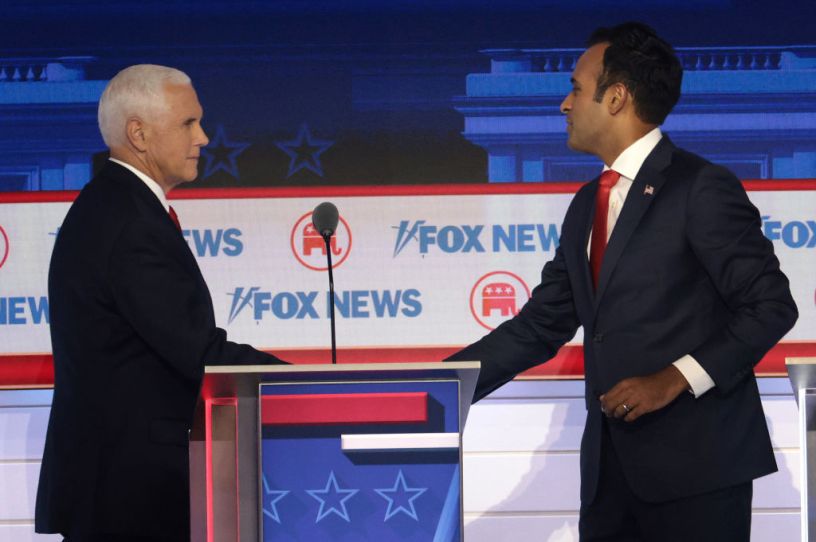 Republican presidential candidates Mike Pence and Vivek Ramaswamy shake hands during the first debate of the GOP primary season on August 23, 2023, in Milwaukee, Wisconsin. (Photo by Win McNamee/Getty Images)
Hello and happy Sunday! Donald Trump wasn't indicted for anything last week, Congress was still in recess, and we don't have another GOP debate until late September. We published lots of good stuff this week, but we enjoyed having a little bit of a break from national politics, too.
That said, August was a pretty intense month. Trump was indicted twice—once by special counsel Jack Smith and once by Fulton County District Attorney Fani Willis—for his efforts to overturn the 2020 election. Russian mercenary Yevgeny Prigozhin, whose Wagner Group was doing a lot of the heavy lifting for Vladimir Putin in Ukraine until Prigozhin launched an ill-fated mutiny attempt, died when his private plane fell out of the sky between Moscow and St. Petersburg. Wildfires in Hawaii devastated the town of Lahaina. The Republican candidates for president debated in Milwaukee, where they worked very hard to avoid discussing Donald Trump—who wasn't even there.
It wasn't always this way. The sports editor of the Washington Post visited the student paper when I was in college, and while I don't remember all of the wisdom he imparted, I do recall him joking that interns ran the newsroom in August. Congress is always in recess, the sports world is in a bit of a lull waiting for football to start, and a lot of people are taking vacation.
Flash forward to today, and I can't remember the last time we had a quiet August. Maybe 2014? That's why this week felt so refreshing: The relative quiet gave us time to appreciate quirky stories about a Nebraska man who was pulled over for driving down the highway with an exotic Watusi bull riding shotgun. Or get all the way through the 6,000-word investigation by a dogged blogger who wondered why there is a pedestrian bridge across I-494 in a not-very-walkable part of Minneapolis.