Another Border Battle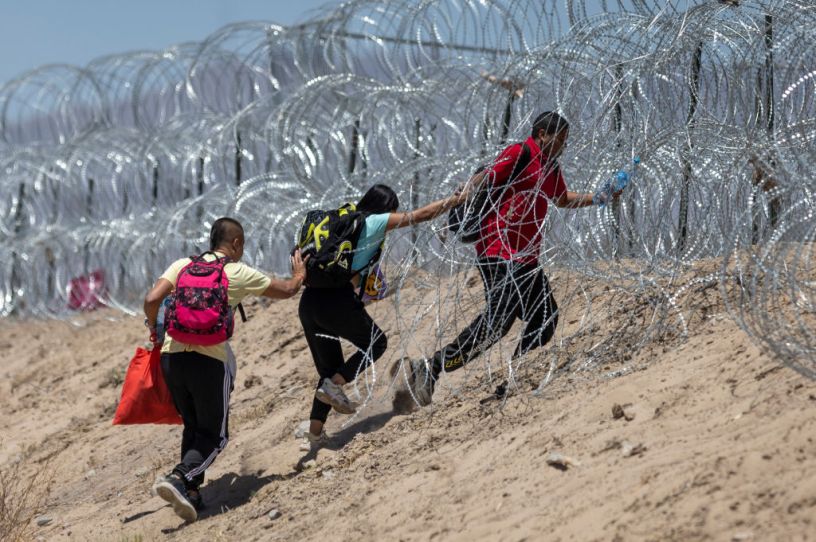 Immigrants walk through razor wire surrounding a makeshift migrant camp after crossing the border from Mexico on May 11, 2023 in El Paso, Texas. (Photo by John Moore/Getty Images)
BROWNSVILLE, Texas—What used to be the Fort Brown Memorial Golf Course here is now a tangle of grown-up brush and weeds since a border wall erected during the Trump administration made it a no man's land. Between the brush and the Rio Grande is a dusty road that Border Patrol, Texas National Guard troopers, and contractors traverse.
On the other side of the river, in Matamoros, Mexico, is a migrant camp. On a late June day when temperatures approach 100, no one is crossing the river. They mostly wait for nightfall, as evidenced by tattered jackets and shirts hanging from shining silver concertina barbed wire lining the ground.
Even as illegal border crossings have fallen in recent months, Republican Texas Gov. Greg Abbott is now in a legal fight with the Biden administration over the state's efforts to deter illegal border crossings. Though some appreciate Abbott's attempts, those dealing with problems on the ground say they're frustrated with federal and state leaders fighting.
"Nobody wants to do anything to really solve some of the problems," Cameron County Judge Eddie Trevino, a Democrat born and raised in Brownsville, tells The Dispatch. "There are things that everybody can agree on. Nobody is opposed to border security." Yet, "at the same time, our immigration system allows individuals who are seeking asylum to come."