Donald Trump's New Immigration Proposals, Explained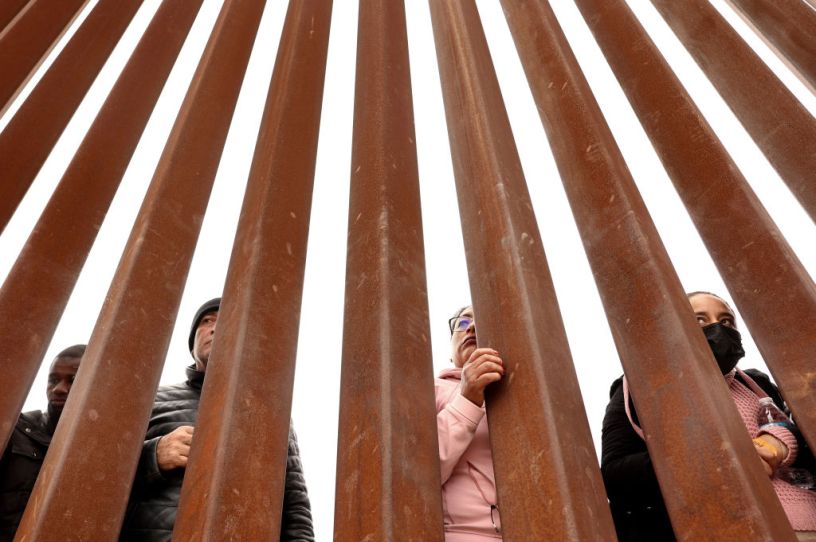 Immigrants seeking asylum in the U.S. look through the border wall on May 13, 2023, in San Diego, California. (Photo by Mario Tama/Getty Images)
Former President Donald Trump didn't take the debate stage last week, but his immigration policy stances still made the rounds online after Axios reported the details of his expected approach to immigration if he retakes the White House. If enacted, the plan would place unprecedented restrictions on immigration.
What's in Trump's plan?
Trump, according to Axios, would complete the wall on the U.S.-Mexico border, expand Texas' floating buoy barriers in the Rio Grande, designate drug cartels as "unlawful enemy combatants" to give the U.S. military the greenlight to target them in Mexico, and involve agencies other than U.S. Customs and Immigration Services (such as the FBI, the Drug Enforcement Agency, and the National Guard) in the detention and deportation of anyone who immigrated illegally. He also wants to send the U.S. Coast Guard and Navy to form a blockade to deter drug smuggling boats in U.S. and Latin American waters.
The plan would also curtail access to legal immigration pathways, via increased ideological screening, screening on wealth, and country of origin. He would also restrict asylum, and would reinstate his "Remain in Mexico" policy, which required people to wait in Mexico for their asylum cases to be adjudicated in the United States. And he seeks to expand it by negotiating deals with Guatemala, Honduras, and El Salvador to send people from those countries back there instead of allowing them to seek asylum in the United States. He would also use the vague threat of various illnesses to reimpose Title 42, a COVID-19-era public health order that swiftly ejected border crossers back to Mexico rather than processing their asylum claims or enrolling them in formal deportation proceedings.