Azerbaijan Attacks, the West Watches
Happy Tuesday! In welcoming TMD's new editor, James Scimecca, please also offer him a word of condolence for his New York Jets' brutal loss to the Kansas City Chiefs Sunday night. Better luck on a night when Taylor Swift isn't in attendance, James.
Quick Hits: Today's Top Stories
The Long Fall of Nagorno-Karabakh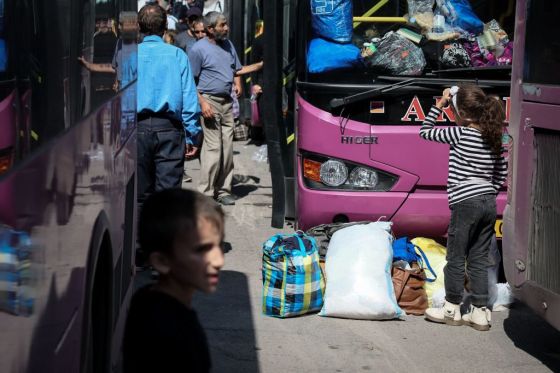 An empty town square roamed by stray dogs. Chairs strewn about alongside abandoned luggage, bicycles, and strollers. Cars left deserted in the street. Such is the scene in Stepanakert—the capital of the ethnic Armenian-run region of Nagorno-Karabakh, a disputed stretch of land generally considered to be part of Azerbaijan—after Azerbaijani military forces seized control of the territory in mid-September. The city that had a population of 75,000 people emptied, essentially overnight, leaving what the first journalists to access the area this weekend described as a "ghost town with no soul."
On Tuesday, September 19, Azerbaijan—a Muslim-majority former Soviet republic in the Caucasus—launched what appeared to be the final stroke of a more than 30-year war with Armenian-backed separatist forces in Nagorno-Karabakh, driving more than 100,000 people to flee across the border to Armenia. Azerbaijan's attack increases the potential for escalation into a wider conflict with Armenia and spells failure for Western diplomatic efforts to prevent the use of hard power to resolve the territorial dispute, leaving Armenians who fled Nagorno-Karabakh separated from land their ancestors had called home for thousands of years.
Sandwiched between Europe, Asia, and the Middle East lies Armenia—the world's oldest Christian country. Azerbaijan borders Armenia to the East, and Nagorno-Karabakh is a disputed territory within Azerbaijian's borders, geographically separated from Armenia but still home to a majority ethnic Armenian population. Although it's not officially recognized by any other country or international body as an independent state, the territory—also known as the Republic of Artsakh—boasted its own government and defense forces until this month.