Our Best Stuff From a Week of Speaker Votes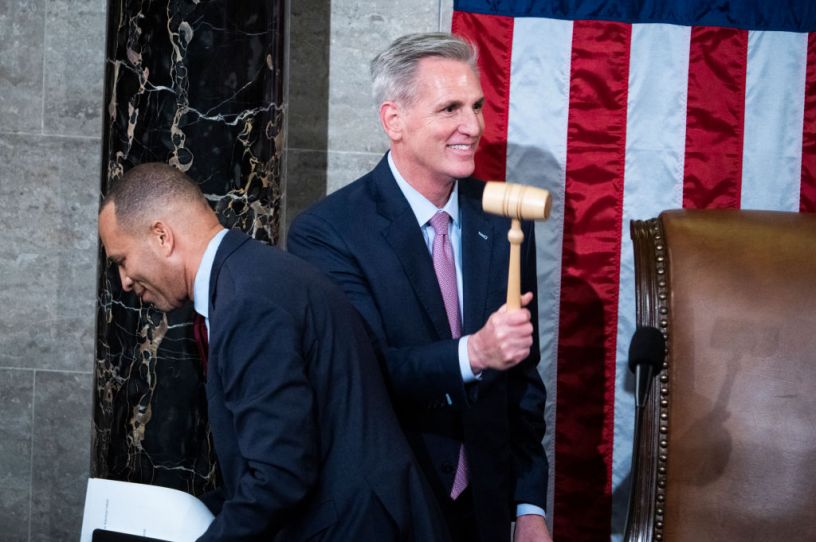 Incoming Speaker of the House Kevin McCarthy accepts the gavel from incoming Minority Leader Hakeem Jeffries after McCarthy won the speakership on the 15th ballot on Saturday, January 7, 2023. (Tom Williams/CQ-Roll Call/Getty Images.)
Hello and happy Saturday. Did you stay up late last night for all the excitement in the House of Representatives? I admit I might have dozed off for a few minutes when it looked like the House would adjourn, but luckily for you our intrepid Hill reporters had consumed enough caffeine to power through until Kevin McCarthy won the speakership of the House on the 15th vote in the wee hours this morning.
On Monday, before the shenanigans kicked off, Chris Stirewalt explained that the reason there was so much drama around the speakership contest was that the stakes were so … low. It sounds counterintuitive but he was prescient. McCarthy won, eventually, but he was greatly weakened in the process.
The late-night vote was good for lawmakers who were eager to return to their families for the weekend, and for exhausted reporters who'd endured long days all week, but it puts weekend newsletter authors in a bit of a pickle. Had the week gone differently, I might have wanted to write to you about the surreal experience of having the week's other big story—the Buffalo Bills' Damar Hamlin suffering cardiac arrest and nearly dying on the football field—playing out in my city and watching as two rival teams and their communities came together to support him and his family. Or maybe I'd have indulged in a status report on the latest hijinks from the Ohio bureau, which has always been a dog-friendly establishment but over the holidays acquired a cat who likes to hang out either in the ductwork or on my keyboard.
As it was, though, the McCarthy story dominated all else. So I will eschew an introductory essay and just jump right in. Some of the work we did over the course of the week has been rendered obsolete by the dramatic conclusion, but plenty of what we wrote offers insight into the current state of the Republican Party and what we should expect during the coming session.
Get every newsletter and all of The Dispatch. Support quality, fact-based journalism.
Get Started
ALREADY HAVE AN ACCOUNT? SIGN IN