Our Best Stuff From a Week We Shot Down Some UFOs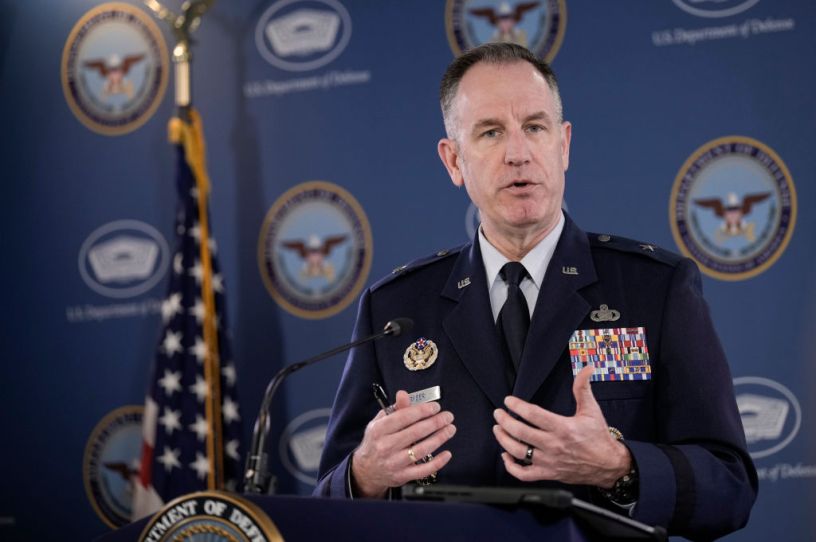 Pentagon press secretary Brig. Gen. Pat Ryder speaks during a press briefing at the Pentagon on February 10, 2023. The Pentagon announced that the U.S. military shot down an unidentified object that was flying over Alaska. (Photo by Drew Angerer/Getty Images.)
Hello and happy Sunday.  I don't know about you but I, for one, welcome our new alien overlords. Okay, just kidding. I hope. I'd like to think there's a more comprehensible—and terrestrial—explanation for why the U.S. has shot down two mysterious "objects," one off the coast of Alaska on Friday and one one over Canada (the latter on orders from Justin Trudeau; NORAD carried out the operation). But I gotta say, the messaging hasn't exactly been comforting. 
When news first broke that the first "object" had been shot down on Friday, everyone's first instinct was that it was another balloon, coming so quickly on the heels of the Chinese spy balloon that floated over the United States the week before. But then we found out it was the size of a small car. And White House spokesman John Kirby told the media, "There's no indication that it's from a nation." To be fair, he was following up on an earlier statement that, "We do not know who owns it, whether it's a — whether it's state owned or — or corporate owned, or privately owned." But you can guess which soundbite made its way to Twitter.
Twitter is also where I found an interview with Alaska Republican Sen. Lisa Murkowski, who told viewers she'd just come out of a classified briefing and later said, "I understand that perhaps we might be dealing with different, uh, different entities here." To be fair (again), she'd just been comparing Friday's shootdown to the way the Biden administration handled the spy balloon, so she probably meant an "entity" other than China.
But words matter! And we live in a time in which brief snippets are grabbed from longer conversations, stripping them of context, and sent out to go viral on social media. And everyone knows that the most sensational snippets are what everyone remembers.