Our Best Stuff From the Week of the Georgia Indictment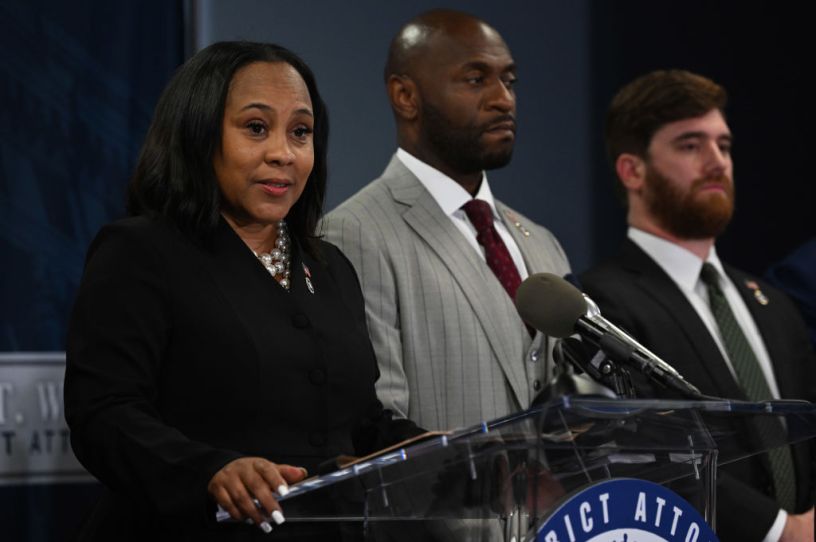 Fulton County District Attorney Fani Willis speaks during a news conference at the Fulton County Government building on Wednesday, August 14, 2023, in Atlanta. (Photo by Joshua Lott/Washington Post/Getty Images)
Hello and happy Sunday. If there's anything positive that we can take away from the last eight years, it's that Donald Trump has afforded us countless opportunities to brush up on our civics. What's the Emoluments Clause? How many excuses can a president offer for firing the FBI director who might have been investigating him? If Congress won't fund something, can a president divert money from the military? What is the Hatch Act? For those who don't remember the 1990s, how does impeachment work?
In just the past few months, we've all gotten refreshers on the National Archives and how presidential records are (supposed to be) handled. And on how grand juries work. We've had debates on the fine line between freedom of speech and criminal conspiracy. And all of us—but especially those who don't remember the 1980s, when, um, Rudy Giuliani successfully went after the mob in New York City—are now getting a crash course in racketeering.
Late Monday night, Fulton County District Attorney Fani Willis announced that Donald Trump had been indicted, along with 18 others, for his efforts to overturn Georgia's 2020 election results. His co-defendants include Sidney Powell, John Eastman, Jenna Ellis, and, ironically, Giuliani. The indictment includes 41 counts, 13 of which implicate Trump himself. But all 19 co-defendants are charged on the first count, for violating Georgia's Racketeer Influenced and Corrupt Organizations (RICO) Act. As Gabriel Malor helpfully explained in a piece we published Friday, "For a RICO prosecution, the crime is joining the 'racket' or, to use the legal term, the 'enterprise,' through 'a pattern of racketeering activity.' Racketeering activity means crimes like murder, arson, and bribery, but also … forgery, false statements, witness intimidation, and perjury."
In the indictment, Willis meticulously details dozens of phone calls, emails, text messages, and meetings in which Trump, his co-defendants, and unindicted co-conspirators discussed ways to overturn the election. Trump defenders cried foul about free speech, and also that the indictment listed acts that are most certainly legal—Trump's speech early on November 4, 2020, declaring victory, a press conference in which his lawyers made false claims about election fraud, etc. As we point out in a few places this week, an action doesn't need to be illegal on its face if it is done in furtherance of a crime. It's not illegal to buy duct tape, for example, but if you're buying it to kidnap someone, it's an act that contributes to the crime.