Happy Monday, and happy birthday to President Joe Biden, who turns 81 today and breaks his own record, as he does every day, for oldest president in U.S. history. We hope it's a double-ice-cream-scoop day.
Quick Hits: Today's Top Stories
U.S. Deputy National Security Adviser Jon Finer said Sunday the United States, Qatar, and Israel are closing in on a deal with Hamas to secure the release of some of the hostages held in Gaza, noting the negotiating parties were "maybe closer than we have been since the beginning of this process to getting this deal done." Sheikh Mohammed Bin Abdulrahman al-Thani, Qatar's prime minister, said yesterday that the only remaining challenges are "practical and logistical." But earlier this weekend, Israeli Prime Minister Benjamin Netanyahu emphasized that no deal had been agreed upon. Incorrect reports on Saturday claimed a "tentative U.S.-brokered deal" had been reached, but American officials quickly denied the claim.*
Israel Defense Forces (IDF) continued their operations in northern Gaza over the weekend, clearing Hamas tunnels—including some running under the Al-Shifa hospital. Israeli officials announced on Friday that the IDF will advance into southern Gaza, the part of the Strip where Israel has urged Palestinian civilians to flee. Meanwhile, Israel and Hezbollah traded intense rocket and missile strikes over the weekend in a sign the conflict in the North is escalating. Two United Nations-run schools, located in northern Gaza and serving as shelters for displaced Palestinians, were reportedly hit by airstrikes over the weekend, resulting in dozens of deaths—though U.N. officials did not specify who was responsible for the strikes. Yesterday, Iran-backed Houthi rebels hijacked a cargo ship in the Red Sea reportedly owned by an Israeli businessman, and the Houthis took all 25 crew members—none of whom are Israeli, according to Netanyahu's office—hostage and said, "All ships belonging to the Israeli enemy or that deal with it will become legitimate targets."
Outsider libertarian Javier Milei won the Argentine presidential election on Sunday against a backdrop of record inflation as his opponent, finance minister Sergio Massa, conceded even before final results were tallied. Provisional results show Milei with roughly 56 percent of the vote. Milei has expressed a desire to forge stronger ties with the U.S., and his plans to reform Argentina include shutting down the country's central bank (and many of its government ministries) and "dollarizing" the economy—ditching the peso for the U.S. dollar.
In a Washington Post op-ed on Saturday that addressed both the Israel-Hamas and Russia-Ukraine wars, President Joe Biden laid out a vision for Palestinians once the conflict is over. "Gaza must never again be used as a platform for terrorism," Biden wrote. "There must be no forcible displacement of Palestinians from Gaza, no reoccupation, no siege or blockade, and no reduction in territory. … The voices of Palestinian people and their aspirations must be at the center of post-crisis governance in Gaza." He called for a "single governance structure" under the Palestinian Authority for both Gaza and the West Bank, and condemned "extremist violence" against Palestinians in the West Bank, threatening U.S. visa bans targeting Israeli settlers who committed violence against civilians.
Biden on Thursday signed into law the short-term stopgap spending bill to fund part of the government until January 19 and the remainder till February 2, averting a government shutdown that otherwise would have gone into effect over the weekend. The measure passed the Senate by a vote of 87 to 11, and set congressional lawmakers on a path for another round of spending negotiations in the coming weeks.
The Department of Education's Office for Civil Rights launched investigations this week into seven schools over reports of alleged incidents of antisemitism and Islamophobia. Three ivy league institutions—Columbia University, Cornell University, and the University of Pennsylvania—were named as part of the investigation, as well as a Kansas school district on the outskirts of Wichita. "When students can't feel safe walking from their dorm, to their classroom, because they're afraid that they're gonna get harmed, that's unacceptable," U.S. Secretary of Education Miguel Cardona said. The Education Department will provide recommendations at the end of their investigations, and schools could potentially lose federal funding if they fail to comply with the recommendations.
House Republicans on Friday began releasing 44,000 hours of video footage captured by security cameras on January 6, 2021, in a move speaker of the House Mike Johnson said would allow individuals to "see for themselves what happened that day, rather than having to rely upon the interpretation of a small group of government officials." Ultimately, about 95 percent of the total footage will be made available for public viewing—though individual faces will be blurred to protect civilian privacy and a small amount of content that includes sensitive security information will be excluded. Former President Donald Trump celebrated the move on Truth Social: "Congratulations to Speaker of the House, Mike Johnson for having the Courage and Fortitude to release all of the J6 Tapes, which will explicitly reveal what really happened on January 6th!"
Colorado judge Sarah Wallace ruled Friday that—although she believed he engaged in "insurrection" on January 6, 2021—Trump would not be removed from the state's 2024 primary ballot under the 14th Amendment. The outcome followed similar rulings in Minnesota and Michigan, though notably was the first time a judge found that Trump participated in an insurrection. "Such incendiary rhetoric, issued by a speaker who routinely embraced political violence and had inflamed the anger of his supporters leading up to the certification, was likely to incite imminent lawlessness and disorder," Wallace wrote in her ruling.
Union members from all of the Big Three Detroit automakers—General Motors, Ford, and Stellantis—ratified new labor contracts, each of which included at least 25 percent in wage increases. Roughly two-thirds of auto workers at Ford and Stellantis voted in support of the new contracts, while a smaller 54 percent of GM workers voted in favor of their new agreement.
Sam Altman, CEO of ChapGPT developer OpenAI, was abruptly fired by the company's board of directors on Friday—only to be courted to return to the company by investors over the weekend. The board of directors officially announced Sunday night Altman wouldn't rejoin the company, leading Microsoft to hire the former executive—and OpenAI co-founder Greg Brockman—to lead a new artificial intelligence research team. Altman, who has become one of the public faces of AI in recent months, reportedly requested a new company governance structure as a condition of his return (which is not yet inevitable). The company began its life as a nonprofit, and though it has since transitioned to a for-profit model, the company still answers to the original nonprofit board, leaving investors with no official say in the company's business.
Former first lady Rosalynn Carter died on Sunday, just days after entering hospice care in her Georgia home. "Rosalynn was my equal partner in everything I ever accomplished," former President Jimmy Carter said in a statement. "She gave me wise guidance and encouragement when I needed it. As long as Rosalynn was in the world, I always knew somebody loved and supported me." Mrs. Carter, 96, was married to the former president for 77 years, and served as the honorary chair of the President's Commission on Mental Health while the Carters were in the White House.
What Makes a 'Stalemate'?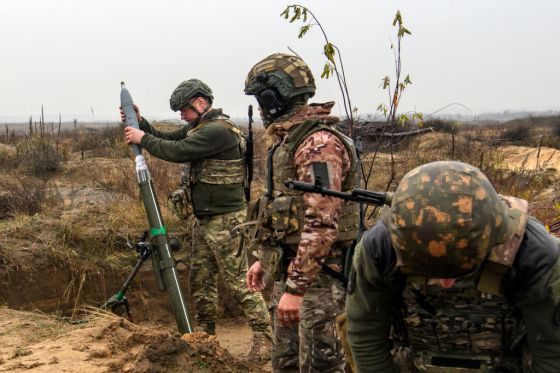 Last week, the Ukrainian military released footage of fighting around the town of Bakhmut in eastern Ukraine. The now-leveled area had been the site of one of the few Russian military successes in the spring, largely due to the efforts of mercenary Wagner forces that have more or less been disbanded. The roughly minute-long video clip showed Ukrainian soldiers in full tactical gear, moving across a burned-out landscape as machine gun fire interrupted the bright, clear day. A tree stripped of its branches smoldered from the inside, and the ground was covered in ash and craters—a literal "no man's land" between Ukrainian positions and abandoned Russian trenches. A handful of Ukrainian soldiers dove into a trench. Later during the video (several jump cuts make it difficult to tell how much time has passed) a mortar exploded ahead of them.
It's a small slice of the kind of fighting that's been happening almost every day since Russia's invasion in February 2022. Ukraine's summer counteroffensive did not achieve the significant, desired progress into Russian-occupied territory, but also wasn't without its modest Ukrainian successes. Military analysts and Ukrainian officials have been careful about labeling the conflict a "stalemate," but there's almost no question the war will be long—bringing to the fore questions about the durability of Western support. As winter closes in, Ukrainian offensives will continue under the threat of significant Russian aerial attacks on civilian infrastructure.
Ukrainian forces launched their counteroffensive in June against Russia's so-called Surovikin line, a three-tiered network of trenches and booby traps extending some 900 miles and named for Russian general Sergey Surovikin. Breaching this line and recapturing territory all the way to the Sea of Azov in southeastern Ukraine was an original objective of the counteroffensive—plowing a corridor through Russian-occupied territory would sever Moscow's supply lines to the Crimean Peninsula, which Russia has occupied since 2014.