Happy Thursday! As you and yours begin to put together your Christmas lists this year, let us offer a little unsolicited advice. A recently sterilized hippopotamus—descended from the very creatures brought to Colombia by the late drug kingpin Pablo Escobar—will not do.
Quick Hits: Today's Top Stories
Post-Panda Diplomacy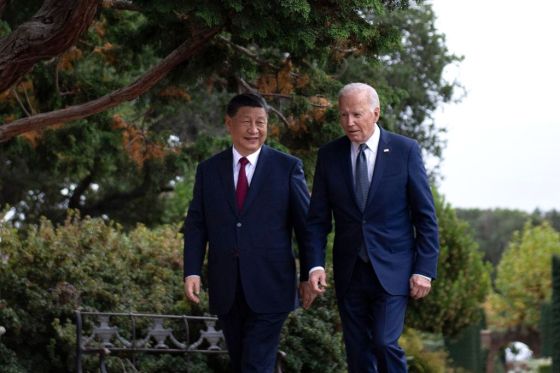 Striking up a conversation with someone you haven't spoken to in a year can be a little awkward under any circumstances, but it's probably worse if that person also flew a spy balloon over your country and took your pandas. 
Chinese President Xi Jinping and U.S. President Joe Biden met on Wednesday on the sidelines of the Asia-Pacific Economic Cooperation (APEC) summit in San Francisco—their first meeting in a year—in an effort to mend a relationship that has deteriorated in recent months. Biden announced modest agreements on several issues during a solo press conference following the summit, including the resumption of some military-to-military communications, cooperation to stem the flow of fentanyl precursor chemicals and pill presses to the Western Hemisphere, and setting guardrails around military applications of artificial intelligence. But despite limited success around the edges of the relationship, intractable disagreements—like the reality of China's aggressive posture toward Taiwan—remain.
The last time Biden and Xi spoke was in November 2022 during a three-hour meeting in Bali, Indonesia, at a Group of 20 leaders summit. That tête-à-tête was colored by discord over Beijing's suspension of communications with the U.S. military in retaliation for then-House Speaker Nancy Pelosi's August 2022 visit to Taiwan—a self-governing island China claims as its own—and relations between the two countries only worsened from there. In February, the U.S. shot down a Chinese spy balloon after it traversed the entire North American continent, causing Secretary of State Antony Blinken to cancel a planned visit to Beijing.