Happy Thursday! Yesterday, Rep. Mike Kelly of Pennsylvania cast his vote for former House Speaker John Boehner to retake the gavel. If you listened closely on the House floor, we're pretty sure you could hear Boehner cackling from an undisclosed location in Ohio.
Quick Hits: Today's Top Stories
'You Are Not Alone'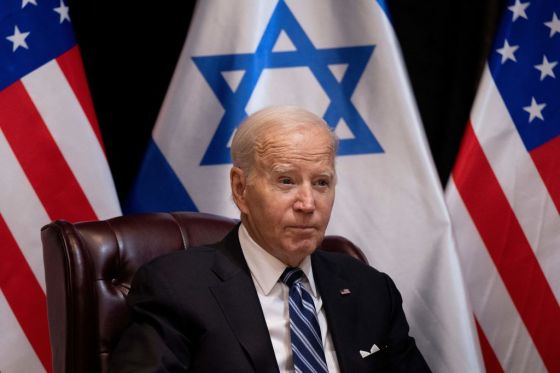 On Wednesday evening in Tel Aviv, after a day of meeting with Israeli leadership, President Joe Biden offered a singular message to the people of Israel: "You are not alone," he said in remarks that were broadcast around the world. "As long as the United States stands—and we will stand forever—we will not let you ever be alone."
Almost immediately after Air Force One departed, Hamas fired rockets into central Israel, including Tel Aviv. Such has been life in Israel for the past 12 days.
Biden's trip to Israel yesterday was the first such visit to the country by an American president during a time of war, and it represented his administration's commitment backing the Israeli government as it responds to Hamas' terror attacks. That commitment was reiterated on Wednesday, when Biden pushed back against claims—initially made by Hamas and quickly picked up by a number of prominent media outlets—that Israeli forces had struck a hospital in Gaza and killed hundreds of Palestinian civilians. "Based on what I've seen, it appears as though it was done by the other team," he said, citing intelligence he had seen from the U.S. Department of Defense. Despite such evidence—which appears to have been corroborated by U.S. defense officials, the Israel Defense Forces (IDF), and independent military analysts—the explosion and the initial reporting of its cause has led to protests across the Middle East, and appears to have altered the geopolitical calculus of a number of players in the region.