Our Best Stuff on 2024, Congress, and War in Israel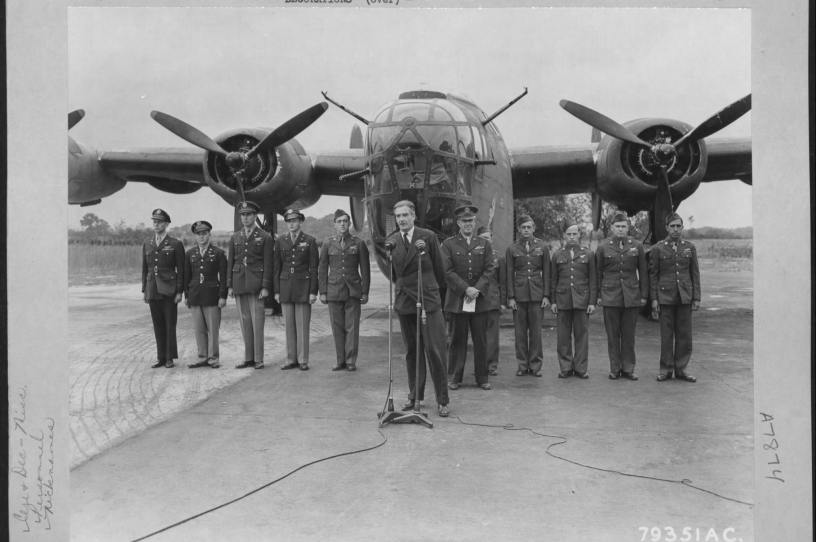 My grandfather Daniel W. Rowland's plane and crew. He's the fourth in from the right. According to the American Air Museum in Britain, British radio host was broadcasting from a base in Norfolk, England, when this was taken.
Hello and happy Saturday. To mark Veterans Day, we published a piece this weekend about the importance of having conversations with veterans about their service—and about the challenge of doing so. A sad but understandable consequence of veterans being an ever-smaller share of our population is that too few people understand their experience. People don't know what to say, or they are concerned they will trigger stressors.
The message is one that hits home for me. Growing up, I knew that my grandfather had served in World War II, but he shared details mostly on a need-to-know basis. We knew he'd been shot in the leg because we couldn't sit on his lap for long when we were little and we could see the scars when he wore shorts in the summer. He didn't try to hide it, but he didn't elaborate much either. And we knew he'd lost a brother to the war effort—my great uncle died in an accident while training to fight in the Pacific theater. As a child, I didn't think to ask much more. World War II felt like ancient history, something that happened in the "olden days," when people had horse-drawn carriages and no indoor plumbing. (I was born 27 years after the end of WWII—a time span not much longer than the gap between 9/11 and today—so it's safe to say my perspective has changed.) Maybe occasionally he'd mention something that happened or someone he served with, but nothing that left a big impression.
That changed as I approached adulthood. In my late teen years and during college, my grandmother couldn't be left alone because of various health issues. I'd go sit with her so my grandfather could do the shopping, get a haircut, etc. And a funny thing happened. I don't know whether my grandmother's health made him realize his own mortality or whether the quiet afternoons were more conducive to conversation than the raucous gatherings they'd have when the whole family got together, but my grandfather decided to tell me his war stories.
He was a waist-gunner on the crew of a B-24 Liberator, the Fascinatin' Witch. As he explained to me one day, his understanding when he was sent to Europe was that he had to fly 25 missions and then he could come home. So when he arrived, he would volunteer for missions when other crews were shorthanded. But at some point, his superiors informed him that he had to fly 25 missions with his crew. Turns out he didn't get extra credit for all those extra missions.
You're out of free articles
Create an account to unlock 1 more articles