Happy Friday! As longtime readers of The Dispatch know, explanatory journalism is a big part of what we're trying to do here—and we'd like to do more of it. If you have some journalism experience and would like to contribute to what we're internally calling the "Dispatch Explainer Network" on a freelance basis, we hope you'll fill out this form. If you have any additional questions, send us an email at explainers@thedispatch.com.
Quick Hits: Today's Top Stories
The AUKUS Ruckus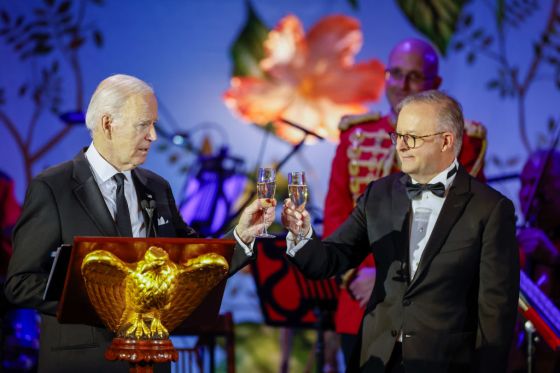 State dinners are typically lavish, celebratory affairs that bring Washington and international elites together. But with Israel actively engaged in a war against Hamas, the White House decided against the usual jubilant atmosphere for the festivities this week honoring Australian Prime Minister Anthony Albanese. First Lady Jill Biden regretfully canceled the planned performance by 1980s pop sensations, the B-52s, opting instead for instrumental music by the U.S. Marine Corps Band. 
Perhaps it was for the best, because we're not sure any state dinner performance could rival South Korean President Yoon Suk Yeol's rousing rendition of Don McLean's "American Pie" back in April.
Despite the somber events in other parts of the world hanging over the meeting, the Australian PM's visit was an opportunity to reinforce an important strategic relationship for the United States as the two countries move to counter Chinese influence and aggression in the Indo-Pacific region. The visit also highlighted some of the obstacles to pursuing the AUKUS (Australia, United Kingdom, and U.S.) security pact announced in March that aims to supply Canberra with nuclear submarines.