Chaos in Congress and Around the World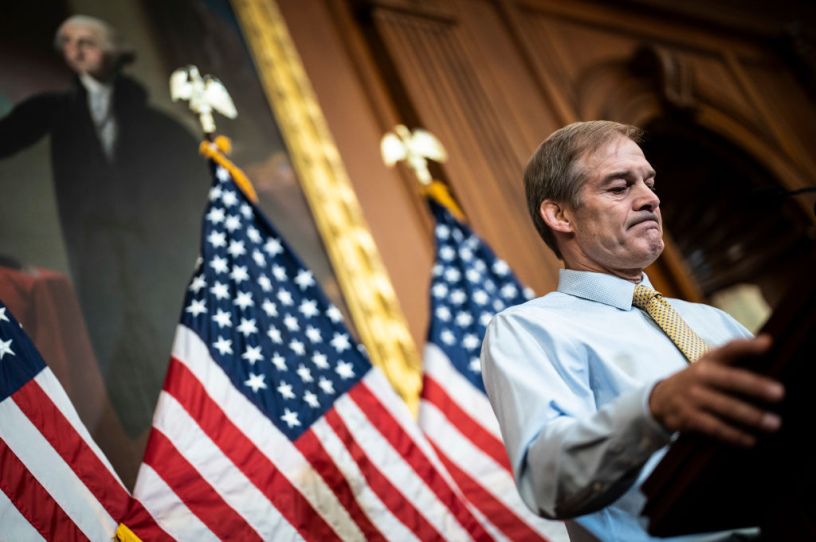 Rep. Jim Jordan holds a news conference on Capitol Hill on Friday, Oct. 20, 2023, in Washington, D.C. (Photo by Jabin Botsford/The Washington Post/Getty Images)
Hello. While I was on the couch Friday evening taking a little break from writing this newsletter, I saw a Threads post from a friend and former colleague. "Remember shame?" he asked. "Shame used to be a thing. I miss shame." He was talking about Sidney Powell, the lawyer who aided Donald Trump's efforts to steal the 2020 election and who pleaded guilty on Thursday to charges in Georgia stemming from those efforts. But I realized that shame—or a lack of it—is a through line connecting the other stories that made headlines this week.
Let's start with the House of Representatives, which still has no speaker nearly three weeks after Matt Gaetz first introduced a motion to vacate, leading to the ouster of Kevin McCarthy. House Freedom Caucus founder Rep. Jim Jordan spent the week trying to earn the speakership, but lost three straight votes on the House floor, bleeding a few more supporters each time. Finally, the House Republican Conference voted 112-86 by secret ballot to remove him as nominee. Given that he angered supporters of House Majority Leader Steve Scalise during the jockeying for the nomination, annoyed pragmatic conservatives by dragging out the process, and had long alienated defense hawks by opposing aid to Ukraine, it's hard to see how he ever thought he had a chance. Yet instead of displaying some humility and acknowledging he couldn't win, he doubled and tripled down, keeping Congress from functioning while crucial matters wait. The clock is ticking to pass a spending bill and avoid a government shutdown, and there is the small matter of aid to Israel.
Speaking of which: The biggest development of the week regarding Israel's war with Hamas came on Tuesday, and the relevant aspect here is a story about the story. News outlets, including the New York Times, reported that an Israeli airstrike hit a hospital in Gaza City, killing hundreds. Their source? "Palestinian authorities." Wait, what? As you probably know by now, that reporting was … ill-advised. The Israel Defense Forces quickly pushed back, saying an airstrike wasn't responsible for the explosion at the hospital. And video from multiple sources—the Associated Press reviewed a dozen from "news broadcasts, security cameras and social media posts"—appears to show a barrage of rockets fired from Gaza toward Israel. One veers off and seems to break apart, seconds before there is an explosion on the ground. "The AP was able to confirm that the larger explosion seen at 6:59 p.m. was in the precise direction of the hospital." On Wednesday, President Joe Biden announced that U.S. intelligence had come to a similar conclusion, that the explosion was not caused by Israel.
But the damage had been done. Jordan's King Abdullah II canceled a planned summit with Biden, Egyptian President Abdel Fattah El-Sisi, and Palestinian Authority President Mahmoud Abbas. Protesters stormed U.S. and Israeli embassies and consulates. Pro-Palestinian Rep. Rashida Tlaib still maintains that the explosion was an airstrike. We posted two important critiques of the Times' coverage, a big-picture look by Kevin and a tick-tock of the Times' ever-changing headlines and captions by Jeryl Bier. But as a member of the last generation of journalists to go through college and start our careers before the internet was really a thing, I can't not weigh in.
You're out of free articles
Create an account to unlock 1 more articles