Our Best Stuff From a Week Ohio Made Headlines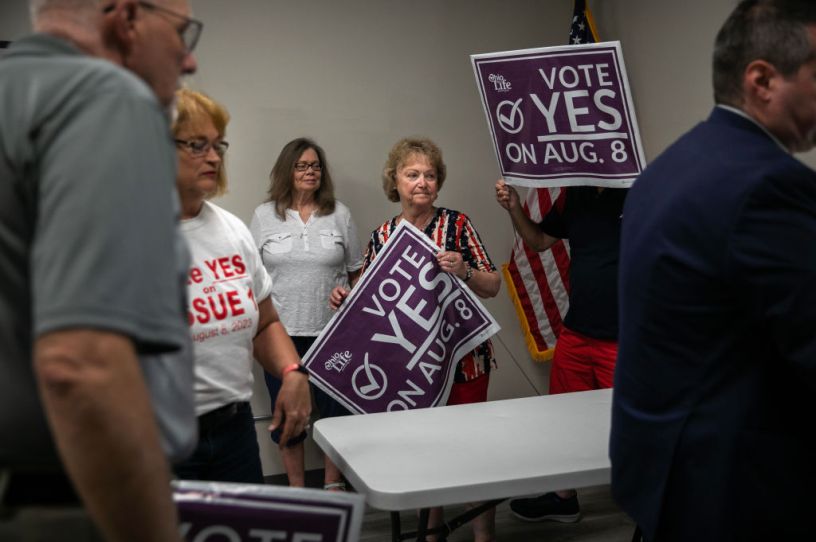 People gather at the Marion County Republican Party headquarters after discussing Issue 1 in Marion, Ohio, on July 13, 2023. (Photo by Maddie McGarvey/For the Washington Post/Getty Images)
Hello and happy Sunday. There was a pretty big news story close to the Ohio bureau recently that we should probably talk about. A beloved diner in our little suburb was featured on Guy Fieri's Diners, Drive-Ins, and Dives, and it's been the talk of the town. We're all very happy for the folks at The Governor, but sad that we'll have to wait in longer lines for their smoked brisket grilled cheese, Governor Tso's chicken sandwiches, and lobster rolls. Oh wait, that's probably not what you thought I was going to say.
I would be happy to talk about (confess to?) the fact that I have a soft-spot for the celebrity chef and Food Network fixture despite his frosted tips and trash-can nachos. Fieri's enthusiasm is contagious, and his shows have helped hundreds of small restaurants enjoy critical and financial success.
And there's nothing I'd rather discuss less than the actual big news story out of my home state. But I do think it offers some lessons for the parties going forward. And while I don't want to get into too much punditry or legal analysis—we covered that in The Morning Dispatch, Dispatch Politics, and Boiling Frogs, I can share my perceptions of the campaign as it was run in Ohio. 
On Tuesday, as you likely know, we had a special election to decide whether to raise the threshold for ballot measures to amend the state constitution. As it stands, such a measure needs only a simple majority to pass. The proposal we voted on last week would have increased that threshold to 60 percent, and it would have required that petitioners get signatures from all 88 Ohio counties to get on the ballot in the first place.