Happy Monday! If you turned off the Jets-Eagles game last night when you heard a certain pop star was not at Metlife Stadium, let us fill you in on what you missed: Gang Green grounded the previously undefeated Birds in their first win over the team in franchise history.
Quick Hits: Today's Top Stories
Israel Prepares to Strike Back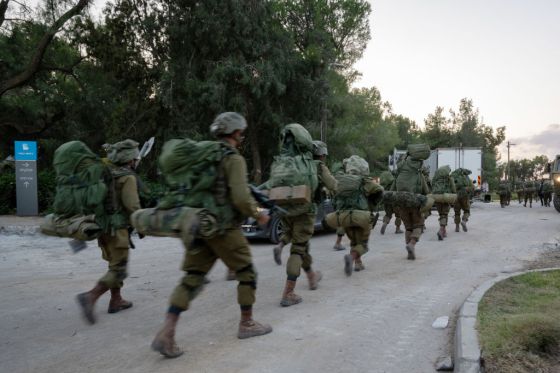 On October 7, hundreds of terrorists descended on Israel from the sky using paragliders, rushed in on the ground through holes dug in walls surrounding the Gaza Strip, and launched thousands of rockets indiscriminately into Israeli territory. Hamas—a Palestinian militant group and U.S.-designated terrorist organization—led the surprise attack, infiltrating villages and towns along the Gaza-Israel border. The fighters massacred men, women, and children—in their homes, in the street, even at a music festival—killing more than 1,400 Israelis and leaving more than 3,000 injured. Hamas terrorists also abducted more than 150 people and carried them back to Gaza—bounded on three sides by walls and on the fourth by the Mediterranean Sea—where many remain as hostages. The atrocities, Defense Secretary Lloyd Austin said in Israel this week, were "worse than what I saw with ISIS," when he commanded U.S. military operations in the Middle East at the height of the terror group's power.
Israeli Prime Minister Benjamin Netanyahu declared war on Hamas last Saturday, vowing "the enemy will pay an unprecedented price." As the Israel Defense Forces (IDF) regained control over the towns and kibbutzim Hamas fighters had infiltrated, it also began airstrikes on Gaza, which have killed at least 2,450 people over the last week, according to the Hamas-run Palestinian Health Ministry. A ground campaign in the Gaza Strip—from which Israel withdrew entirely in 2005—is imminent. More than 300,000 Israeli reservists have been called up to fight, and the IDF has amassed troops and vehicles to the north of Gaza. Over the weekend Israel ordered the evacuation of more than 1 million Palestinians in northern Gaza—which Hamas openly discouraged—urging them to move south in anticipation of the invasion.
Questions abound as Israel—and the world—prepare for the next phase of the war: What would a ground offensive in such a densely populated region look like? What kind of U.S. support will Israel see? And in a region historically fraught with conflict, how do the events of the past week set this war apart?