A Week of War in Israel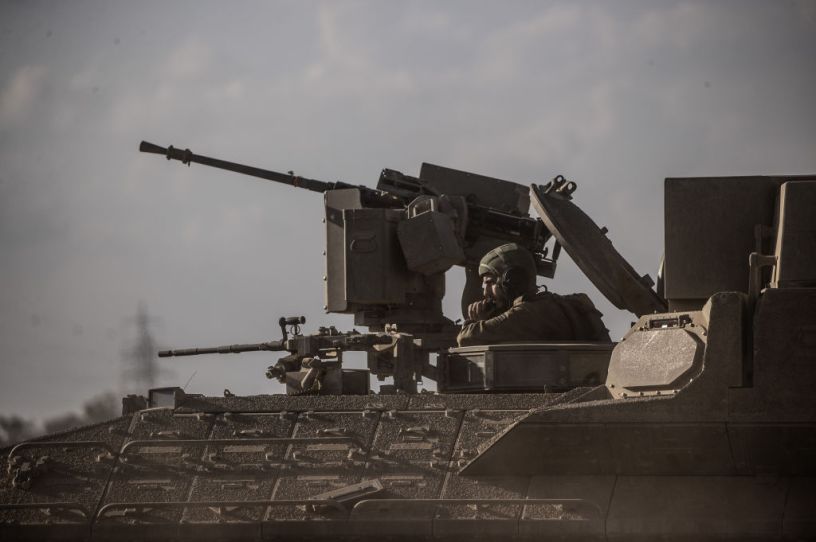 Israel continues to deploy soldiers, tanks and armored vehicles near the Gaza border in Netivot, Israel on October 15, 2023. (Photo by Mostafa Alkharouf/Anadolu/Getty Images)
Greetings. Last Saturday we awoke to the news that Hamas had launched a horrific attack on Israel, but we were still learning the scope of the devastation when we sent you this newsletter that afternoon. We now know that it was the deadliest day for the Jewish people since the Holocaust. Israel has declared war on Hamas and late Thursday asked the United Nations to help evacuate the northern part of the Gaza Strip.
The war is hardly just a conflict between Hamas and Israel. Hamas is backed by Iran, and the Wall Street Journal reported that Iran not only assisted Hamas with the planning but that final signoff on the attack came from the Iranian Revolutionary Guard Corps. As Charlotte reported, the bloodshed appears to have derailed, at least temporarily, the U.S.-brokered normalization efforts between Israel and Saudi Arabia (something that Iran isn't exactly unhappy about). Western leaders have been vocal in their support for Israel, led by President Joe Biden. At the White House on Tuesday, he delivered what we described in The Morning Dispatch as "one of the strongest statements of support for Israel to ever come from the building." But around the world, from American college campuses to European capitals and cities in the Middle East, supporters of the Palestinians (and outright Hamas sympathizers) demonstrated against Israel.
In short, it's a regional conflict with immense global implications. And we're covering it from every angle, including speaking to Israelis about what they are experiencing, analyzing what it means for Benjamin Netanyahu's government, looking at how U.S. policy on Iran might be allowing the Islamic Republic to fund terrorism, and keeping up on what Congress is doing in response. Let's get right to what we published last week. Thank you for reading.
Even before the shock of the unprecedented assault had worn off, the questions started: How could Israel, with its world-class intelligence organizations, have missed this? Jonathan Schanzer writes that they "were operating on the faulty assumption that Hamas no longer wished to invite painful wars upon the beleaguered population of Gaza." They had assessments that Yahya Sinwar, the leader of Hamas in Gaza, was looking for a way to bring relief to his beleaguered people. That was obviously wrong. But, Schanzer argues, Hamas also miscalculated: "The Hamas terrorist organization had a rare and precious opportunity to work toward the modus vivendi that the Israelis believed was in the offing," he writes. But now? "The Hamas murder spree of October 7 ensures more misery for the people of Gaza."
You're out of free articles
Create an account to unlock 1 more articles